10 Housing Markets Poised for Growth In 2019
From an article by Marian McPherson on www.inman.com
Robust existing-home sales growth, steadily rising median sales prices, healthy economic growth, and a maturing Millennial population — this is the recipe for success according to realtor.com's 2019 housing market forecast released on Wednesday.
"On the demand side, these include, a growing economy measured in growing employment and income, growing population due to either in-migration or natural growth, and a high proportion of young couples at the stage of life of starting and growing families," explained realtor.com senior economist Dr. Joe Kirchner.
"On the supply side these include affordable housing, available land, labor and capital for building new homes and an older population looking to downsize, move to senior facilities, move in with their children or have passed away leaving a home for their children to sell."
Based on these factors, Kirchner predicts that Lakeland, Fla.; Grand Rapids, Mich.; El Paso, Texas; Chattanooga, Tenn.; Phoenix, Ariz.; Bridgeport, Conn.; Las Vegas, Nev.; Boise City, Idaho; Miami, Fla.; and Boston, Mass. will have a spectacular year in terms of sales and home price growth.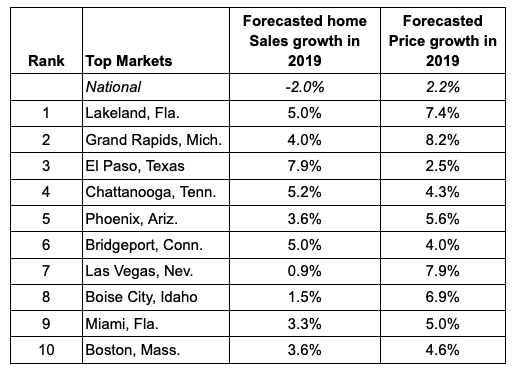 Collectively, the top 10 metros are expected to outpace national home sales and price growth by six percent (-2.0 percent versus +4.0 percent) and 3.4 percent (2.2 percent versus 5.6 percent), respectively.
Beyond sales and home prices, these cities are also forecasted to outperform the rest of the nation in terms of employment (2.1 percent versus 1.3 percent) and income growth (3.55 percent versus 3.83 percent) as well.
Lastly, the top 10 metros are primed to experience a building boom in 2019, thanks to a 5.9 percent increase in construction labor and ample land availability — both of which are needed as the metros are expected to have a 2.0 percent population increase — 1.35 percent above the national average (0.65 percent).
On a metro-by-metro basis, Lakeland, Florida, nabbed the top spot mainly due to favorable economic conditions that include a projected 2.3 percent increase in employment and a 4.7 percent increase in household incomes, making the median home price of $162,000 affordable for most households.
But, Kirchner says the affordable prices may not last long as home value appreciation is expected to reach 7.4 percent in 2019.
Coming in second is Grand Rapids, Michigan, where the local economy and employment rates are forecasted to rise to 5.8 percent and 2.3 percent, respectively.
As a result, household incomes are expected to receive a 2.8 percent boost, which is needed since home price appreciation may reach 8.2 percent this year. But, Kirchner expects that a boom in housing starts (+19. 3 percent) during 2019 will cool prices down by 2020.
Rounding out the top three is El Paso, Texas, where home sales growth is expected to be robust at 7.4 percent. Strong housing starts fueled by land availability and robust construction labor will keep sales growth high while keeping prices low, says Kirchner of the city, which only began experiencing rapid sales growth in 2016.
The thread that ties these metros together is affordability — something that buyers have struggled to find over the past few years as supply has failed to meet demand. But Kirchner says these metros could easily begin experiencing booming home prices if their current building pace ever falls behind.
"This will be temporary if builders cannot keep up with the in-migration of households," he warned. "Their ability to do so is dependent on the availability and price of land, the availability of skilled construction labor and for small builders the availability of small business loans to finance their construction projects."